Lemon Blueberry Protein Pancake Recipe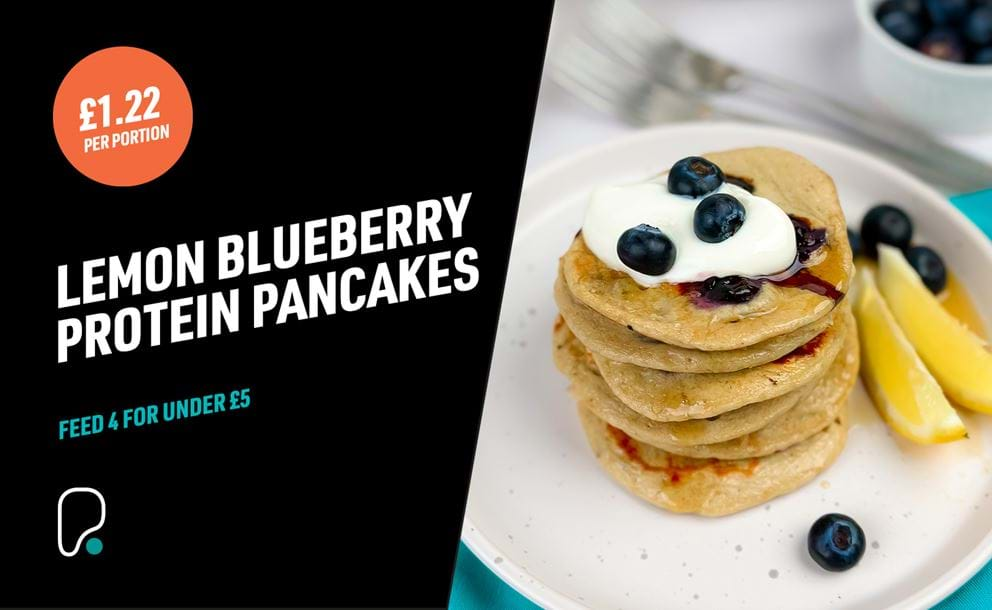 Get an added boost of protein with our easy protein-pancake lemon blueberry pancakes. Fluffy and delicious, our protein pancakes, made with banana and oats are great for breakfast or a post-workout snack.


Price per portion: £1.22
Serves: 4
Prep time: 5 mins
Cook Time: 15 mins
Ingredients
To make the pancakes you will need:
2 bananas
150g oats
6 eggs
40ml semi skimmed milk
4 tbsp vanilla protein powder
2 tsp baking powder
1 lemon, juiced
1 lemon zested
180g blueberries
Toppings:
4 tbsp 0% fat Greek yoghurt
4 tsp maple syrup
Method:
Add bananas, oats, eggs, milk, protein powder, baking powder and lemon juice to a blender and blitz until a smooth pancake batter is formed.
Heat a frying pan with low calorie oil spray and then add 1 ladle or 2 tbsp of pancake batter to the pan at a time, flattening into a circle shape.
Add a couple of blueberries to the pancake and a sprinkling of lemon zest.
When the pancake starts to bubble, flip, and cook for 30-60 seconds on the other side.
Remove from the pan and repeat until all the pancake batter is used.
Keep pancakes warm until some tin foil, whilst cooking the rest.
Top with remaining blueberries, 1 tbsp Greek yoghurt and a drizzle of maple syrup.
In the mood for more pancakes? Why not try our peanut butter protein pancakes or our savoury and sweet super spinach pancakes!