Get ready to burn calories and boost your fitness level in this moderate to high intensity class, which is sometimes referred to as 'spin'. Motivating music will provide the soundtrack as you cycle your way through multiple terrains designed to improve cardio endurance, lose weight and strengthen your legs and core. And because you control the resistance and speed, your fitness is in your hands. When it comes to group exercise classes, this one is as easy as riding a bike.
HOW TO BOOK A CLASS
It's so easy to book classes on the PureGym App or on our website by simply selecting your chosen gym, viewing the class timetable and finding a class and time that suits you!
If you are new to classes, let your instructor know when you arrive, and they will help you get started – all of our classes cater for all abilities, so you can work at your own pace.
WHAT TO WEAR
Come dressed in comfortable, breathable non-restrictive clothing – remember, our classes will get you moving! Don't forget to bring a towel to freshen up and a water bottle to hydrate (we have water fountains in every gym to refill any reusable water bottle).
FREQUENTLY ASKED QUESTIONS
Not only is cycling good for improving cardiovascular fitness, it's low impact and can help to improve your leg strength.

Like most cardio exercises, a cycle class can be a great way to increase your energy expenditure to aid weight loss. It can also help to strengthen your leg muscles by adding resistance.

Weight loss is dependent on energy balance. To lose weight you will need to be in an energy deficit. If cycle classes help you to achieve a deficit and you enjoy cycle classes, it can be a good way to lose weight.

The calories you burn is very individual and depends on many factors such are your fitness level, height and weight. Cycle is more intense than most cardio activities.

Cycling is a low-impact exercise that is easy on your joints, which makes it ideal for people with knee or hip issues or those recovering from injuries. Speak to a medical professional first before exercising if you're recovering from injury.

To lose weight, you need to be in an energy deficit. Cycling can help to increase your energy expenditure, which can aid in weight/ fat loss.

Cycle classes vary, but they're usually fast-paced and include sprints, climbing, time trials on distance, sets and hill climbs. A usual class lasts between 30-45 minutes. Cycling is intense, and there's little to no rest breaks but you can manage the level or resistance to suit your fitness level.

A cycle class is a low-impact form of exercise, which is beneficial if you have back pain because the impact on your spine is less. But if you struggle with back pain or your back aches after a cycle class, check your form and adjust the equipment appropriately. Check with a medical professional if you suffer from chronic back problems before exercising.

Indoor cycling is a low-impact exercise and is gentler on your hips, knees, and ankles than other cardio exercises.

Cycling targets your quads and hamstrings, helping to tone your legs. Cycling does work your glutes but if your primary aim it to tone your bum, weight training can give you better results.

If you are pregnant, talk to a medical professional before you do any exercise.
MEMBER THOUGHTS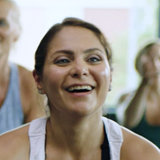 "Cycle has helped me to get into shape and I'm having so much fun doing it. Your heart is racing and your legs are pumping but you just go with it. You can take it at your own pace so it's as hard as you want to make it. The instructors are great, they get you all fired up and that really helps."
Maryam Z.
CLASS INSTRUCTOR THOUGHTS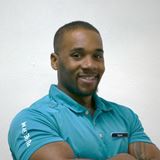 " I love teaching spin, not only because I get to help people become fitter, faster and stronger, but also because I feel as if we're one big family striving for the same outcome"
Gysai Dowey