Tandoori Chicken Skewers Recipe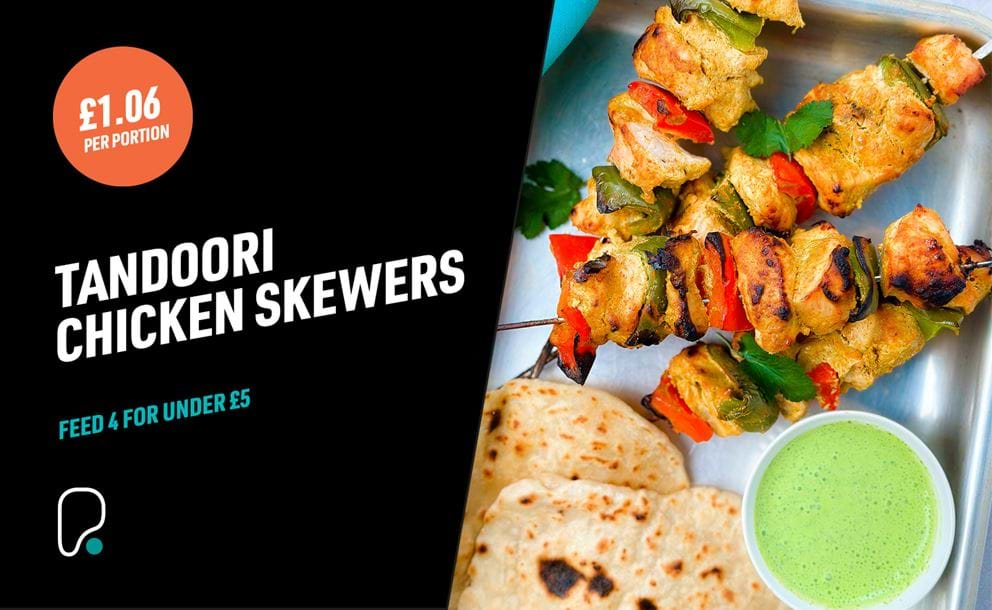 Packed with protein, which is great for muscle recovery, our spiced tandoori-style chicken kebabs with homemade flatbreads are a firm favourite for gym goers.

Price per portion: £1.06
Serves: 4
Prep time: 15 mins
Cook time: 20 mins
To make the chicken kebabs you will need:
2 large chicken breasts, diced
4 tbsp 0% fat Greek yoghurt
1 lemon, juiced
2 garlic cloves, crushed
2 tsp ginger, peeled and grated
1 tsp paprika
1 tsp garam masala
1 tsp ground coriander
1/2 tsp turmeric
1/2 tsp ground cumin
1/4 tsp cayenne pepper
1/2 tsp salt
1 red pepper, cut into chunks
1 green pepper, cut into chunks
Low-calorie oil spray
To make the flatbreads you will need:
110g self-raising flour
115g 0% fat Greek yoghurt
¼ tsp salt
½ tbsp light unsalted butter

Method:
Add diced chicken to a bowl and top with Greek yoghurt, lemon juice, garlic, ginger, paprika, garam masala, coriander, turmeric, cumin, cayenne pepper and salt. Mix well.
Leave to marinade for a minimum of 30 minutes, overnight if possible.
Add tandoori chicken and peppers to the skewers alternatively.
Place under a medium to high grill for 10-12 minutes, turning 3-4 times whilst grilling.
Whilst the chicken cooks, make the flatbreads.
Mix flour, yoghurt and salt in a bowl and bring together using your hands.
Dividing into 4 dough balls and flatten each ball onto a floured surface to make a flatbread shape. You can use a rolling pin or your hands to do this.
Heat a non-stick frying pan to a high heat with some low-calorie oil spray and add flat bread, cooking for 2-3 minutes each side. Repeat until all flat breads are cooked.
Brush with melted butter and season.
Blend ingredients together for the coriander and chilli yoghurt, season to taste.
Serve grilled chicken skewers with flatbread, lettuce, fresh coriander, and yoghurt sauce.
Top Tip: If using wooden kebab skewers soak for a minimum of 30 minutes, but overnight if possible. This stops the stick from burning during cooking.
In the mood for more kebabs in your weekly dinner rotations? Try our tasty sausage and pepper kebabs and our chicken yakitori skewers.