Banana and Spinach Pancakes with Gregg Wallace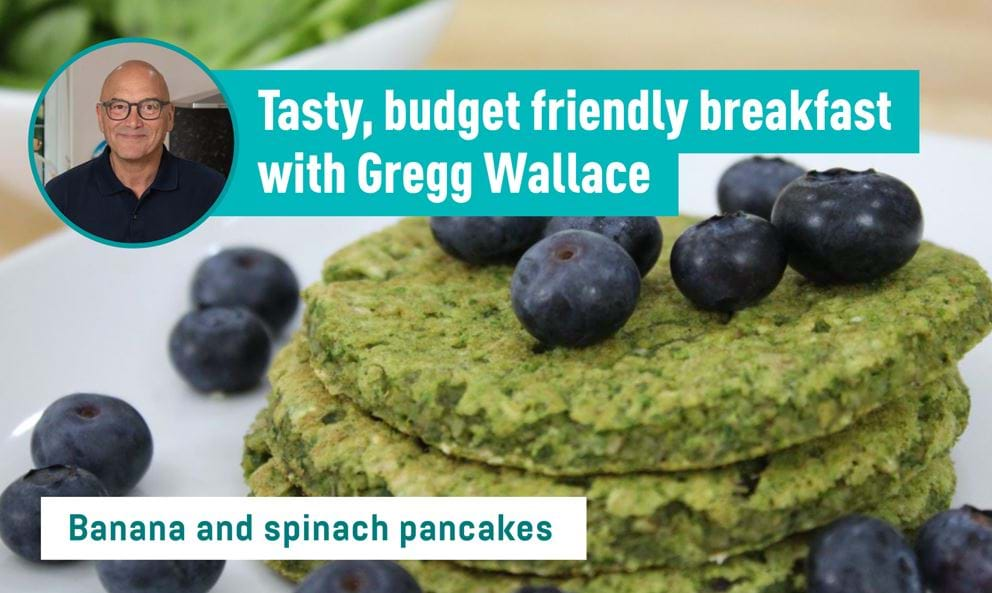 In need of some healthy breakfast inspiration? TV presenter Gregg Wallace is back with another one of his budget-friendly recipes for you to try. This week Gregg is sharing one of his favourite healthy breakfast recipes - banana and spinach pancakes. Yummy!
Gregg's banana and spinach pancakes are full of flavour and packed with micronutrients for an added health boost. They're quick and easy to make, and as always don't break the bank! All you need today is 5 - 10 minutes, a blender and a small frying pan.
Ingredients
Serves 2
½ cup oats
½ cup spinach
1 egg
1 banana
60ml almond milk (unsweetened)
½ tsp cinnamon
½ tsp vanilla extract
½ tsp baking powder
Olive oil (to grease the pan)
1 handful of berries (to serve)
 Method
Prepare your ingredients
Add all of your prepared ingredients into the blender and blitz until smooth
Oil your pan and wait for it to heat up on a medium heat
Ladle small amounts of pancake mix to the oiled pan and leave to cook on one side
Flip when it's cooked and repeat on the other side
Serve with berries and enjoy!
If you missed any of Gregg's recipes click here to check out his delicious flattened chicken and homemade pesto recipe or his prawn tacos with pineapple salsa.
For more great recipes and to get fit with Gregg Wallace you can sign up to ShowMe.Fit, his new weight loss and fitness platform. For only £7 a month you can access heaps of live workouts, tasty recipes, yoga and mindfulness sessions and guidance from experts such as psychologist Dr. Kevin Dutton and registered nutritionist Katharine Bright. For more information about ShowMe.Fit please click here.