Flattened Chicken and Homemade Pesto with Gregg Wallace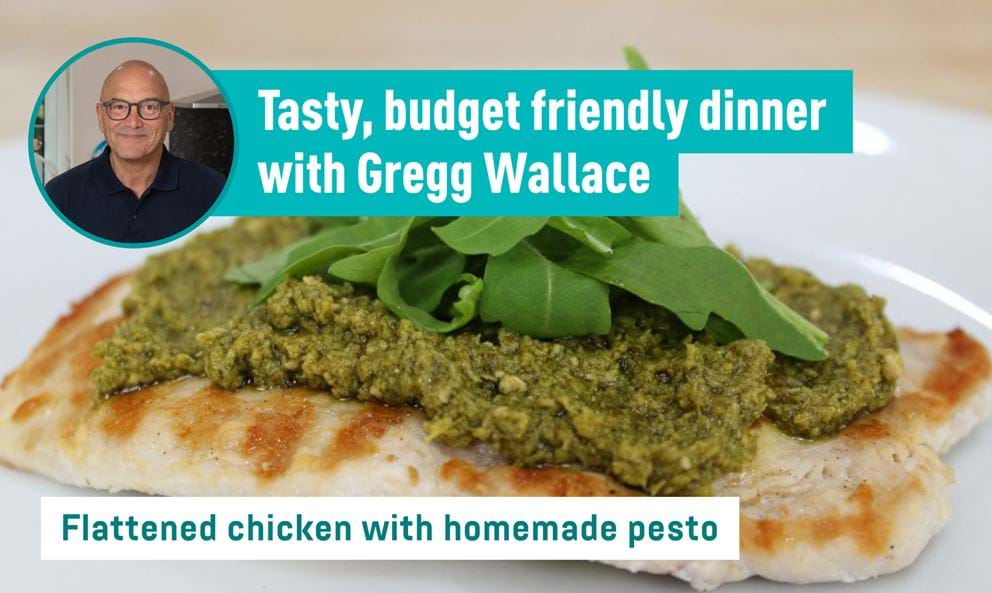 Tv presenter Gregg Wallace has shared three mouth-watering recipes for our PureGym members to try. This week Gregg has whipped up a delicious 'Flattened chicken and homemade pesto' recipe for your dinner that is quick and easy to make.
Save some £££ and switch your store-bought pesto to Gregg's 5-ingredient, 5-minute homemade pesto. Dollop your pesto on top of a seasoned chicken breast and serve with the lemon rocket salad.
Ingredients
Serves 1
1 Chicken breast
1 tbsp of pine nuts
2 tbsp of parmesan cut into chunks
1 clove of garlic
3 tbsp of olive oil
1 handful of basil leaves
1 handful of rocket
Juice of 1/2 a lemon
Method
Start by making your pesto. Add the pine nuts, parmesan, olive oil and basil leaves into a blender or a blender bowl.
Prepare your garlic by laying your knife flat over the clove and pushing down. Cut the hard end off the clove and then remove the skin. Crush it with your knife again and then also add into the blender or blender bowl.
Blend the pesto mixture until smooth.
Cut two sheets of cling film large enough to cover the chicken breast.
Place the chicken breast between the two sheets of cling film and gently hit it with a rolling pin to flatten.
Once the chicken breast is flat enough, remove it from the cling film and drizzle olive oil and a pinch of salt and pepper on one side of the chicken breast.
Pre-heat your griddle pan, and then place the chicken breast oil and seasoned side down into the pan. Oil and season the other side whilst it is cooking.
Once your chicken is cooked on one side (this is dependent on the thickness and size of your breast), flip and cook on the other side until it has cooked all the way through. The chicken is ready when it is white all the way through.
Next prepare your rocket salad by adding a drizzle of olive oil and a squeeze of lemon over the top of a handful of rocket.
Top the chicken breast with your homemade pesto and serve with the rocket salad.
Top Tips from Gregg
To save time later in the week, why not make a larger batch of homemade pesto – it can save in the fridge to enjoy for up to 3 days.
When cooking in a griddle pan, always oil the meat and not the pan. But don't worry if you don't have a griddle pan to hand, you can also use a classic frying pan.
For more great recipes and to get fit with Gregg Wallace you can sign up to ShowMe.Fit, his new weight loss and fitness platform. For only £7 a month you can access heaps of live workouts, tasty recipes, yoga and mindfulness sessions and guidance from experts such as psychologist Dr. Kevin Dutton and registered nutritionist Katharine Bright. For more information about ShowMe.Fit please click here.