Prawn Tacos with Pineapple Salsa with Gregg Wallace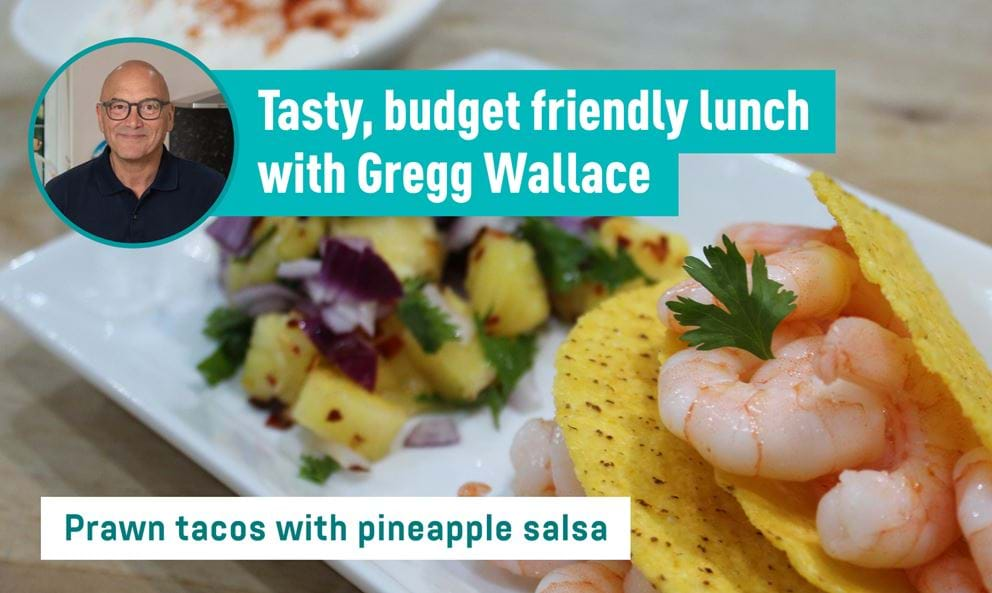 TV presenter Gregg Wallace is back again with another mouth-watering recipe for you all to try. This week Gregg is sharing his tasty prawn tacos with zingy pineapple and chilli salsa finished with a dollop of sour cream. It tastes as good as it looks! This recipe is perfect for a weekend lunchtime pick me up. The best bit? It's quick, easy to make and requires hardly any cooking.
Ingredients
Serves 1
200g / ½ tin of pineapple chunks
1 tsp crushed chilli
½ red onion
½ teaspoon garlic powder
Handful of coriander
Juice of ½ a lemon
150g cooked prawns
Olive oil
Pinch of paprika
Sour cream
3 taco shells
Handful of rocket
Method
Start by preheating your oven according to the instructions on your taco shells, and then begin to prepare your ingredients for the salsa.
Cut your onion in half – you only need half for this recipe. Peel and then dice your onion and place into a mixing bowl.
Cut your pineapple into small bitesize chunks and add that to the bowl, along with your chopped coriander.
Add your crushed chilli, a drizzle of olive and fresh lemon juice to the bowl and mix.
Now to season your prawns - add the garlic powder and paprika to a clean bowl and mix until fully coated.
Place your taco shells in your pre-heated oven and follow the instructions on the packet to cook.
Build up your tacos by layering up rocket, salsa, prawns and a dollop of sour cream on top. Enjoy!
Top Tips from Gregg
To save time later in the week, why not make a larger batch of pineapple salsa – it can save in the fridge to enjoy for up to 3 days.
If you missed last week's recipe from Gregg click here to check out his delicious flattened chicken and homemade pesto recipe.
For more great recipes and to get fit with Gregg Wallace you can sign up to ShowMe.Fit, his new weight loss and fitness platform. For only £7 a month you can access heaps of live workouts, tasty recipes, yoga and mindfulness sessions and guidance from experts such as psychologist Dr. Kevin Dutton and registered nutritionist Katharine Bright. For more information about ShowMe.Fit please click here.