Quiet Times and Equipment to Help Build Gym Confidence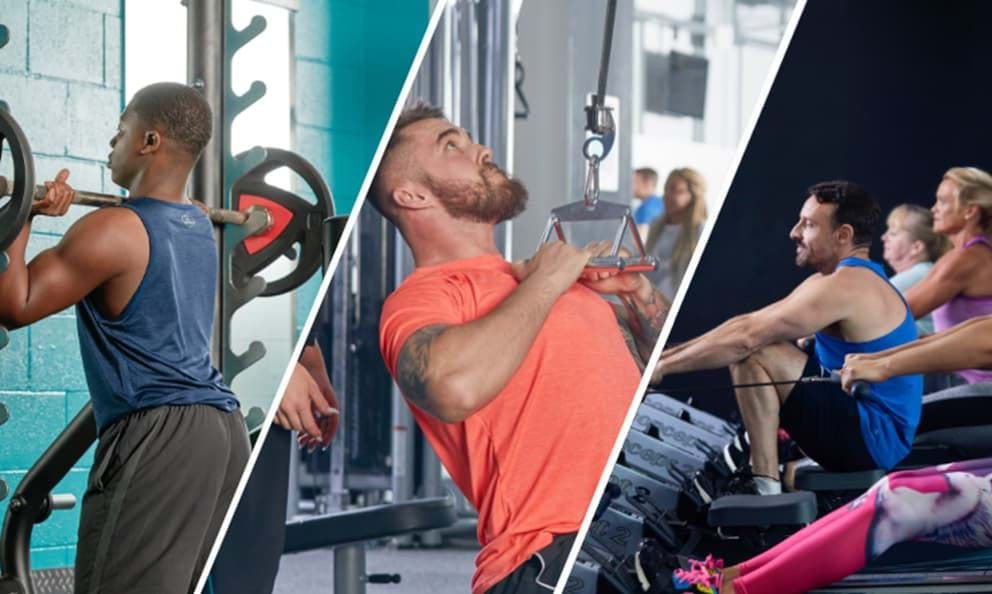 Our new research reveals how to avoid the busiest gym times, and what equipment to use for an uninterrupted training session.
We've analysed usage data from our PureGym app to reveal the quietest times to visit the gym, as well as finding out which gym equipment you'll almost never have to wait around to get on (with advice on how to use them to achieve your goals!)
Whether you're a beginner or a seasoned gym veteran, you'll be able to plan out your training sessions for the weeks, months and even whole year at the gym, sidestepping the busy days and maybe even discovering some new kit to take your regime to the next level.
We've added new features to our PureGym app so you can plan your visit to the gym and get a safe, great workout.
Contactless access to the gym using your phone
Live attendance tracker to help plan your visits to the gym
Loads of great classes and over 200 workouts on demand
Personalised workout plans to meet your goals
Manage your membership from changing your gym to updating your payment details
Click here to download our free app.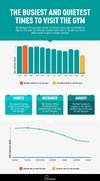 The Busiest and Quietest Gym Times
By reviewing data of our PureGym app users, we found the following results:
Busiest day of the week to visit the gym: Tuesday
Quietest day of the week to visit the gym: Sunday
Busiest calendar month in the year to visit the gym: February
Quietest calendar month in the year to visit the gym: December
Busiest day in the year to visit the gym: The second Tuesday in March
Quietest day in the year to visit the gym (after Christmas and New Year): The Sunday before Christmas
Quietest day in the year to visit the gym (removing the Christmas period altogether): the final Sunday in August
The Most and Least Popular Gym Equipment:
Not only did we look at when the gym is quietest, but also what equipment inside the gym will most likely be easily available, even at the busiest times. Because every now and then you want a quick wait-free workout, and for a beginner the prospect of asking 'how many sets have you got left' can be a bit intimidating in the first instance.
It goes without saying that the likes of treadmills and squat racks are popular across the country, but we wanted to know if there's any under-utilised pieces of equipment, that could be adding to your workout?
Following a survey of our gym managers up and down the country, the answer is one big yes! Find the least and most used gym equipment in the UK below:

Least Used Gym Equipment
(% of UK gym managers that agreed X equipment was the least used)
Powerplate: 50%
Recumbent Bike: 31%
Agility Ladders: 31%
Bosu-Ball: 27%
Sit-up Machine: 25%
Stepper: 22%
Ski-Erg: 17%
Swiss Ball: 15%
Multi-Hip Machine: 12%
TRX System: 10%
Most Used Gym Equipment
(% of UK gym managers that agreed X equipment was the most used)
Squat/Lifting Rack: 49%
Olympic Lifting Platform: 37%
Treadmill: 33%
Climbmill/Stair-Master: 30%
Cable Machine: 27%
Dumbbells: 26%
Bench Press: 18%
Barbells: 11%
Leg Press Machine: 10%
Leg Extension Machine: 8%
Choosing equipment that less people use is a good way to guarantee a quieter workout with less queuing, interrupting or people watching and waiting for you to finish. Especially when the equipment that our gym mangers say is the least used is equipment that can be super effective at helping your achieve your fitness goals!

Kay says: "Most commonly used by athletes, particularly footballers, the agility ladder is a great piece of kit to use if you want to improve footwork, speed, agility, coordination and explosiveness. It's easy to set up, compact and you can perform a variety of exercise drills on this, so if you're looking to switch up your cardio routine, why not give it a go?" Kay has also created an agility ladder workout that you can read here, and instantly get started on improving your footwork, speed and agility!

Treadmill too busy? How about taking time to work on your core and balance? At times a forgotten aspect of a training regime, good balance will benefit most of what you do in a gym, and the bosu-ball is a great way to give it a boost. Our Functional Ab Workout video shows you how to use a bosu ball for some killer mountain climbers.
For more workout ideas, check out our Fitness section.
Why use a Recumbent Bike?
Looking for a low-impact way to give your general fitness a boost… without any queuing when the gym is at its busiest? The recumbent bike is your answer! No matter your current fitness level, it's an excellent and under-rated piece of equipment. And, being the second least used piece of equipment in the country, you should always be able to get on and get riding too.
Kay says: "If you're wanting a low impact workout, a recumbent bike can be a suitable equipment of choice to boost your fitness levels. This bike is suitable for all abilities and comes with a backrest and wider seat so it provides more support and cushioning than on an upright bike."
Stretching is an essential element of any trip to the gym, and the Powerplate can take your stretches to the next level, especially when it comes to your legs. As they'll most likely be sat unused, it makes sense to incorporate a Powerplate stretch into your session while at the gym.
PureGym Insider Kay says: "The Powerplate can a good piece of kit to use during your cool down. You can also use it to work on your balance and improve your core strength by performing core exercises with the machine."
Find out more about how to use a Powerplate, including a great cool-down stretch for your legs, here.
More Ways to Build Gym Confidence
Visiting the gym when it's not busy, or choosing equipment in a quieter part of the gym, are great ideas when it comes to building gym confidence when you're staring out, but there's a lot more you can do to set yourself on the road to feeling completely at home in the gym. Here's two ways to make you feel more comfortable working out at the gym… even when it does get a little busy.
Use Workouts Plans For New Ideas
After a few visits to the gym, you might find your training becoming a little repetitive, because you're naturally gravitating towards the equipment you know or performing the movements you're most comfortable with as you've done them before.
This is where new workout plans and ideas come in and add some more flavour to your fitness regime. By looking at a variety of workouts plans, you're sure to come across new equipment and movements that you haven't tried which will make your gym sessions more interesting – and help you reach your fitness goals even faster.
If you're goal is to improve your general fitness, then PureGym Insider Kay has put together a set of workouts to help inspire you, using a variety of equipment and helping you to explore more of the gym. There are also lots of other workout ideas, whatever your fitness goals, over on our free workout videos page. We also have a number of workout plans available on the PureGym app.
Book an Induction… or even a class!
Before jumping straight into an entirely new workout on your very first day at the gym, there's something every single personal trainer will recommend you do first: book an induction! There's so much inside the gym this really is the best way to get to know it and realise that it's not such a scary place after all. Plus, whoever shows you around will become a new friendly face whenever you visit.
Using equipment correctly when you're exercising won't only help you to avoid getting injured, but also make sure you get the most out of your workout. An induction can be the difference between spending days or even weeks working out how everything works, or instantly putting an end to any confusion around how everything actually works and getting right after those goals!
Joining a class can be one of the best decisions you'll ever make when it comes to building your confidence in the gym. Yes, it might be nerve wracking to start with and yes, there will be people you don't know taking part alongside you. But take part and the buzz you'll get will be greater than the nerves and you'll no doubt be booking yourself in again. Take the leap by booking a class early and after that, what else at the gym will make you nervous? Nothing! Go for it and find out more about our classes here.
Helen Gruntz, our Gym Manager in London Canary Wharf says it best:
"Try not to worry too much about what everyone else is thinking or looking at. While it might feel like people have their eyes on you, it's generally not like that all. Everyone in the gym is there for a reason and busy focusing on themselves. Before you step into the gym have a plan ready, so you know what you're going to do in your session or if you're not sure join a class. You got this!"