Leah's Gym Confidence Journey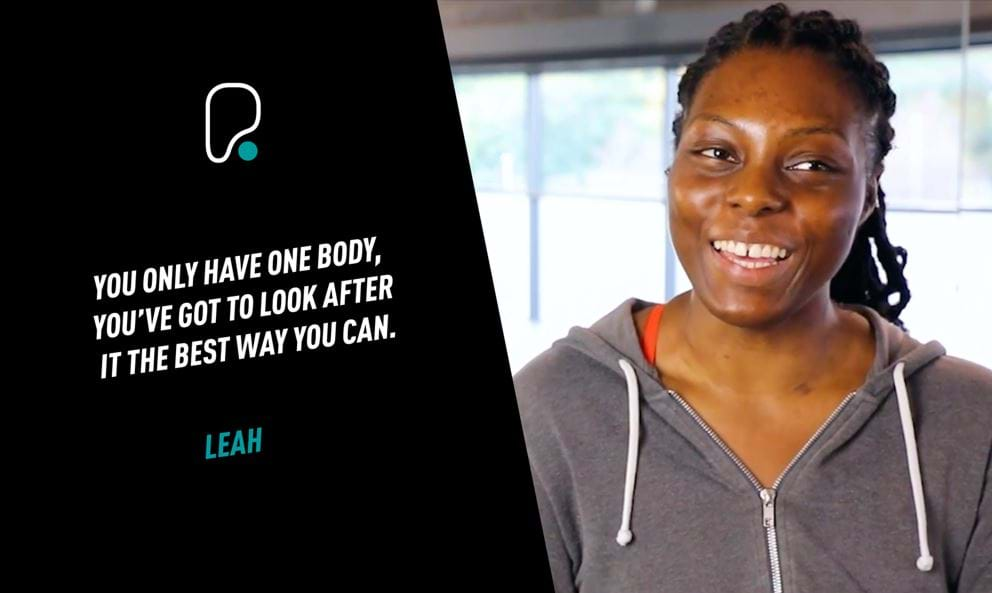 When Leah decided to join the gym to improve her health, she had no idea what she was doing. Joining classes and getting a PT helped her to fall in love with fitness, so she could become healthier, stronger, and more confident.
Hi, I'm Leah. I'm a student studying in Sheffield. I joined PureGym almost 3 years ago! 
I didn't have a lot of confidence in myself, and I could see that if I kept doing what I was doing I would spiral or fall down the slippery slope of leading a really unhealthy lifestyle. So, I decided I needed to change. 

When I joined PureGym, I didn't know what I was doing so I snuck my way into the classes. My favourites were Zumba, Pump and HIIT! 
Classes were my crutch and my foundation when I started. They helped me build confidence and make friends who were all in the same boat as me. I also learnt a lot about getting the right form so as not to injure myself. 

I then met my personal trainer, Callum, in one of the classes I frequently attended – and that's how I fell in love with weight training! He's a warm and friendly trainer who definitely pushes my limits, and also helps to keep me accountable. 
Callum has helped me combat the mentality of the 'I can't' spirit and has shown me that I can do a lot more than I think.  

When I was training one day, I saw someone doing a photo shoot at the gym for themselves, and I thought what a better way to commemorate me turning a new page. So, I set myself the goal to do one too. I loved the process and it helped me gain more confidence in myself. 

Now, I just love the gym. I was never a morning person, but I'm there now at 6 am doing my sessions. It just shows how much I've grown. 
I also think the gym massively helps my mental health and has positively changed my mindset around giving up / not trying. 
I had a rough patch in time where I was mentally stressed, had anxiety and slight depression. Being able to keep my gym routine was another good outlet to deadlift my frustrations away or just have an hour away from work and life. 
The gym has made me healthier, fitter, stronger and more confident.  
 You only have one body, you've got to look after it the best way you can and live as long as possible. 
For anyone feeling nervous about joining PureGym I would say that there is nothing to be nervous about! Everyone starts at the same starting point, the people you see in the gym are just people at different points of their journey! 
No one is here to stare and judge. In fact they are all friendly and there to give a helping hand, especially the staff there! Don't hesitate and get the first step into the door of the gym. 
PureGym have multiple cleaning stations to wipe down equipment and even though there was some equipment removed for social distancing - there was still a wide range of equipment to use to keep routine! 
I also have to say a big thank you to the PureGym staff that kept us safe while training during the pandemic. 

Start your journey today
The best day to change your life is today. Need help? Our Starting Out At The Gym section is full of helpful guides and advice aimed at beginners. 
With over 300 gyms nationwide, there's a PureGym for everyone. Find your nearest gym here.