Wendy's Heart Story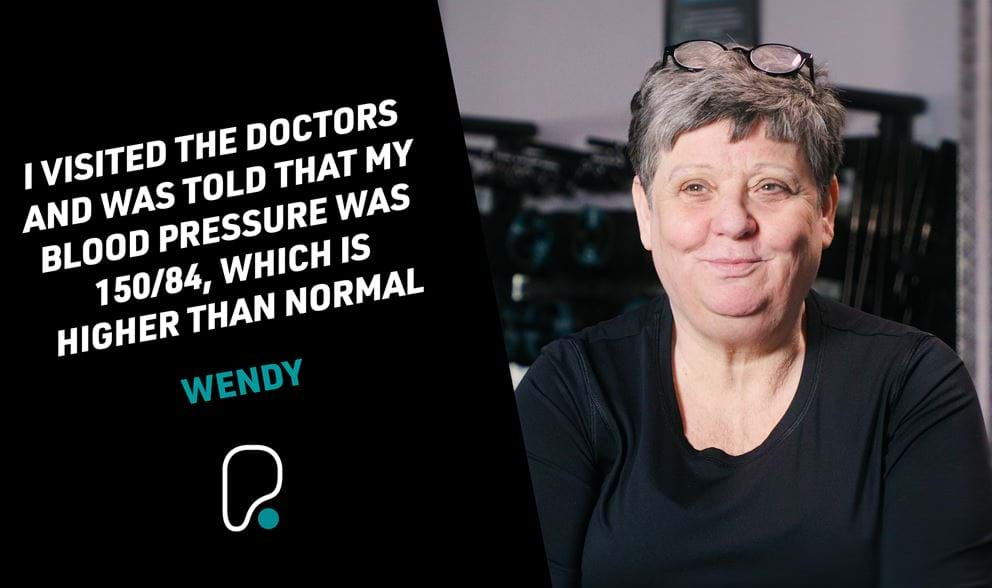 Today's heart story is from 61-year-old Wendy, a member at PureGym Stretford. After being diagnosed with high blood pressure, also known as hypertension, Wendy was left feeling worried for her health so decided to join the gym to improve her lifestyle and overall health.
Back in December, I visited the doctors and was told that my blood pressure was 150/84, which is higher than normal. My doctor told me that I would need to go on medication to help bring my blood pressure back to a healthy level, or I could try some healthy lifestyle changes first. They recommended I introduced exercise into my routine and tried to eat a little healthier.
The diagnosis left me feeling worried about my health and it made me realise that I had to make changes and build good habits to change my lifestyle. I decided to try and bring my blood pressure down without medication first – and that's when my fitness journey started.
I had never done much exercise throughout my life and all I did was walk the dog so when I joined the gym it was the first time I'd been to one! I always used to put barriers in the way of exercise and made excuses to avoid it, but I knew that if I joined the gym, it would motivate me to workout. When I told my son that I was going to join the gym, he told me that I'd never go, and his words spurred me on to really give it a good go!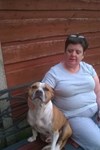 The gym has helped my confidence to grow and has left me feeling better about myself. The time that I spend in the gym is just for me and allows me to just focus on myself. I'm also eating healthier, sleeping better and I've got more energy to do things in everyday life, like going to the park with my grandchildren and walking my dog for longer.
I think the most challenging thing about joining the gym was going for the first time and making the decision to exercise, especially when you're a newbie. In the beginning, I'd always go when it was quiet, and I'd wear a green tracksuit with a hoodie so I could hide! I'd do 15 minutes of exercise, make no eye contact with anybody and then I'd be straight back out the door.
As my confidence slowly grew, I started to come to the gym more often, started to make friends with likeminded members and generally began to really enjoy the process! My weight loss also helped me to feel better about my body, so I bought some gym wear and now I'm obsessed with buying gym leggings – I've got loads of pairs!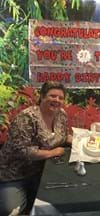 When I joined, I had my gym induction with Leah and from there I decided to book a couple of PT sessions with her. She gave me the confidence to try different things, like the strength machines and helped me to understand how to use the equipment. Leah helped me a lot and she was there to encourage me and push me to work hard throughout my sessions.
After I'd been training at the gym for a few months, I had my blood pressure checked again and I had managed to reduce my blood pressure back down to a normal level. This meant that the healthy lifestyle changes had worked, and I didn't need to start taking medication for my high blood pressure.
Joining the gym helped me to make lifestyle changes that have made all the difference to both my physical and mental health!
Before I joined the gym, I think I probably had the wrong impression of it. There are all ages, shapes, sizes, and abilities. It's important to remember that everybody starts somewhere. My advice to somebody who is in a position like I was, is to start small, go at your own pace and just go for it!
Inspired by Wendy's story? Did you know that you can have your blood pressure checked in any of our PureGyms? If you're not sure what your blood pressure numbers are, book a free check or ask a member of the gym team for further information.
High blood pressure can be serious if it's not treated, and the condition often does not have any symptoms. Keeping on top of your blood pressure numbers, eating healthily, and exercising often can all help to keep your blood pressure at a normal level.  
Visit British Heart Foundation's website to for further tips on how to control your blood pressure.