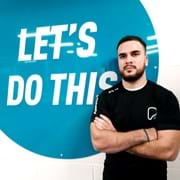 Theo Anastasiou
Having been a PT for just over a year now.. and I can say that I love what I do.
I have always been interested in personal development and being the best version of yourself, and I am telling you that you can achieve that.
No matter what position you are in, anything is possible.
I believe in pushing yourself and overcoming obstacles is what makes us grow as people, the same with our bodies. But we all can do with some help, everyone can by having that accountability, a nutrition plan for you which is balanced which is the key to having a great healthy lifestyle which has no expiry date. Regardless of your fitness goals, and not just physically but mentally too with my clients it is a responsibility to not just looking after my clients during the session but coaching them also outside are sessions.
I have had some great coaches teach me from boxing to life and the pleasure of meeting some great people throughout my journey. If you are ready to start your journey then feel free to get in touch and we can talk about your fitness goals!
Specialist Areas
Body confidence
Muscle tone and development
Nutritional guidance
Postural correction
Boxing
Qualifications
Level 1 Boxing Coach
YMCA – Level 3 Personal Trainer
YMCA – Level 2 Fitness Instructor
YMCA – Level 1 Diploma in Sport and Active Leisure