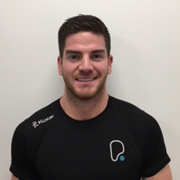 Sion Williams
Hey guys! My name is Sion. Fitness and sport have been a great passion of mine since I can remember. Having been a keen athlete, rugby and golf player, qualifying as a Personal Trainer was a natural progression. Fitness and wellbeing is a choice of lifestyle and I am dedicated to helping you achieve this.
I have experienced firsthand the powerful effect fitness has had on my clients: its notable impact on confidence, self-belief and determination. My qualifications allow me to help clients who require postural retraining and corrective exercise.
I can create a range of sessions and programmes enabling you to achieve your aims in the most effective way. My approach is motivational, encouraging but at the same time friendly: this positive attitude has proved to bring the best out of my clients.
If you see me around the gym, please feel free to come over and have a chat or enquire about a taster session. I am also a fluent Welsh speaker and would be happy to conduct sessions in Welsh if preferred.
Specialist Areas
Functional specialist
Muscle tone and development
Nutritional guidance
Postural correction
Sport specific training
Weight loss
Qualifications
Level 2 Fitness Instructor REPs
Level 3 Personal Trainer REPs
EIF Certified Nutrition Coach
Fitness & Motivational Coach ACSM
Endorsed Coaching Award
EIF Master Trainer
EIF Certified Exercise Specialist