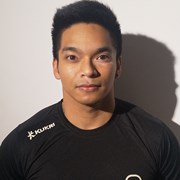 Shabbir Ahammad
After being a trainer for several years, I have learned that the most important thing is finding a balance.
No one can out train a bad diet or a crazy amount of alcohol consumption over a weekend-long bender.
Small and gradual changes to lifestyle are my 'speciality' as a trainer, to have my clients be able to make quality progress and work towards a complete body transformation, be it fat loss or muscle gain.
All this at a pace that is realistic and manageable with the option to step things up if they choose to put in the work for faster results.
Specialist Areas
Bespoke plan
Body confidence
Body fat reduction
Muscle tone and development
Nutritional guidance
Weight loss