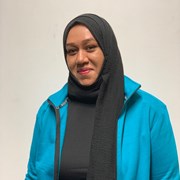 Selima Islam
I'm a Qualified Personal Trainer specialising in Strength
Training, HIIT (high intensity interval training) and Thai
Boxing (Muay Thai).
I've been training for over 8 years. I have been through
my own Weight-Loss journey a few years back - going
from a size XXL to now a dress size Medium. Through
this journey I learnt how to lose weight in a safe and
healthy way, toning and sculpting the body along the
way. It wasn't easy but I did it, this gave me a drive into
the fitness industry when I left my Project Management
job and turned my passion for fitness into a career.
Helping others achieve their goals is very satisfying for
me, especially when you love what you do. I'm
passionate about keeping fit and healthy, a simple
active lifestyle change makes a huge impact on your
mind, body and well-being for the better. Whether you
want to lose weight, tone your body, become stronger,
learn some self-defence or simply want to become a
little more confident in exercising - get in touch. I'll be
with you throughout to help and guide you along the
way. I'm passionate about my clients goals. The journey
is just as important as the results.
Get in contact for a free consultation today.
Specialist Areas
Muscle tone and development
Strength and conditioning
Weight loss
Qualifications
• IAO LEVEL 3 PERSONAL TRAINING
• IAO LEVEL 2 FITNESS INSTRUCTOR
• FIRST AID