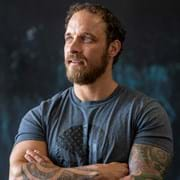 Sam Watson
In short, I have always loved movement. I joined the Army at 17 and from the first company fitness session we did I fell in love with testing what my body was capable of. After just 2 years I became thew company physical training instructor, and have buzzed of coaching people ever since. After 10 years in the army, and 4 operational tours I thought it was time to leave and make coaching my full time career. 
I went into a gym for 4 years to really hone my 1-1 coaching skills, and then took my business online. Here I really learn that I could get amazing results from people by putting systems in place that allowed me to not only hold people more accountable, but I was able to do so in less time, meaning I could help more people. 
Fast forward to today. My online business has a great reach, however I just missed that purpose, that face to face people interaction. Now I'm at pure gym my soul mission is to help as many people as possible to achieve their health and fitness goals so they can get the most out of life.
Our health is our wealth, and if we have it in abundance then we open all the doors of opportunity life has to offer. I have online coaching programs to cater for nearly every circumstance no matter where you're at physically or financially. Scan the QR code below to go straight to my web site where you can take a look at, programs, transformations and all coaching offers. Any questions feel free to submit a form and I'm always happy to jump on a call. 
Specialist Areas
Bespoke plan
Body fat reduction
Functional specialist
Injury prevention and rehabilitation
Muscle tone and development
Nutritional guidance
Postural correction
Sport specific training
Strength and conditioning
Qualifications
Level 3 Personal Trainer
Cross Fit Level 1 Coach