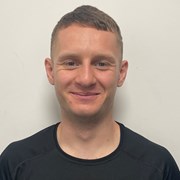 Sam Hunt
Need help getting started in the gym?
I strongly believe the best results come from exercise that you will enjoy. Since I found this, I have been training consistently up to the present day. I am now happy with my health, fitness and physical appearance. Finding training methods, I enjoy has led me to train using many gym-based methods as well as other exercise outside of the gym that can be transferred to many settings and environments. I would love to help and guide you to discover what type of exercise can have a life changing effect for you!
I am now competing in fitness races, teaching fitness classes and helping others reach their goals through personal training. Now specialising in obesity and weight management. If you think I could assist you in reaching your goals whether you have never stepped foot in the gym or are at a sticking point having been training for months or even years, get in touch to start your journey!
Specialist Areas
Body fat reduction
Functional specialist
Nutritional guidance
Qualifications
Level 2 Gym Instructor
Level 3 Personal Trainer
Level 4 Certificate in Developing Physical Activity & Weight Management Strategies for Obese Clients
Advanced Resistance Training