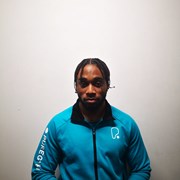 Raekwon Davy-Brock
My passion for sports started when I was in my early teens. I played rugby for a few years and earned multiple achievements. I also earned multiple medals and trophies for swimming competitions. 
This passion for sports led me to become a Personal Trainer, so I can help motivate and teach others my skills, helping them succeed along their fitness journey. 
Train like a beast, look like a beauty! 
Do you want that brand new summer body? 
Do you need that extra mental boost? 
Are you struggling to gain or loose weight? 
If the answer to any of them questions is yes look no further and book with me. 
Specialist Areas
Muscle tone and development
Strength and conditioning
Weight loss
Qualifications
Level 2 - Fitness Instructor
Level 3 - Personal Trainer