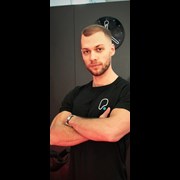 Petko Tsikov
I became a Personal Trainer because I genuinely love helping people achieve their fitness goals. Making the first step of joining the gym can be difficult, and I know this from experience. Ever since I can remember myself, I've been one of the skinniest guys and this would often make me feel insecure. At 18, I decided to join the gym and within a short period of time it completely changed my life and became a huge part of it.
Many people don't know what they are capable of until they are challenged. Finding the motivation is often not an easy task, but this is where I would like to come in and support you. With over eight years' of experience in training, and a professional Personal Trainer qualification, I have learned how to always think positively and overcome difficult situations. I will be happy to support you in your development. My goal as a Personal Trainer is not only to challenge you on a physical but also on a mental level, to help you develop confidence and a strong mindset which will benefit you in your daily life.
I am sure that three months from now you will thank yourself for waking up earlier and making time for yourself. If you want to find out more information about me you can find me on Social Media:
Instagram: ptfitness_
Facebook: Petko Tsikov Fitness
Or simply come and say hi to me whenever you see me on the gym floor.
Specialist Areas
Bespoke plan
Body confidence
Body fat reduction
Muscle tone and development
Nutritional guidance
Strength and conditioning
Weight loss
Qualifications
Level 3 Personal Training
Level 2 Fitness Instructor
Group Instructor