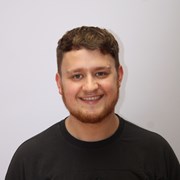 Owen Norman-Bruce
Investing in your physical and mental health is the best investment you can ever make.
I've been there. I was overweight, weak, had no motivation and then fitness came into my life. Since
the start of my journey 6 years ago I have educated myself as much as I can, found a passion in
fitness and have fallen in love with the gym and changed my life around.
What can I do for you?
'Give someone a fish, they'll eat for a day. Teach someone how to fish, they'll eat for life'. I
want to help educate & lay the foundations for you to have a healthier and better life rather
than just applying a quick fix that won't last.
Create the best plan possible which perfectly fits into your lifestyle and helps you reach your
goals.
Make fitness & the gym a fun and rewarding experience for you.
If I can do it, so can you!
Please feel free to get in contact with me as soon as possible and book in your free consultation. I
can't wait to start working with you!
Specialist Areas
Body confidence
Body fat reduction
Muscle tone and development
Strength and conditioning
Weight loss
Qualifications
L3 Personal Trainer
L2 Fitness Instructor
1st Aider