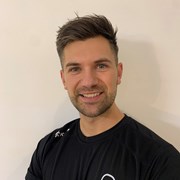 Neil Salway
Hi, my name is Neil Salway and I am a qualified Personal Trainer. I run Strength Training for weight loss and body re-composition. I also take a special interest in diet & nutrition
I provide a new approach to well-being and training, as I believe fitness has given me the opportunity to help people improve their lifestyle and mental health. Growing up I have always been interested in sport, but fitness has helped me gain confidence in myself. I want to help others gain more confidence in themselves through fitness, lifestyle and well-being.
I love learning new ideas and techniques which I can share with my clients. I have completed a vast amount of training in a variety of disciplines. For example, Football, Strength Training and Functional training. I believe my help can benefit you because training will never be boring. I believe that a more 'you' focused training program is great for improving the daily movements in life and will improve your overall lifestyle. 
If you are interested in some personal training or just don't know where to start in the gym - don't hesitate to come and say hi or contact me via Email or Instagram.
Instagram - @neilsalwaypt
Specialist Areas
Bespoke plan
Body fat reduction
Muscle tone and development
Sport specific training
Weight loss
Qualifications
Level 2 Gym Instructor 
Level 3 Personal Trainer