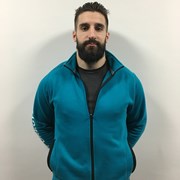 Nate Andrew
My name is Nate and I'm here to help you!

If you are stepping into the gym for the first time you might be confused as to what you should be doing. If you're already an experienced weightlifter but your strength has plateaued it can be frustrating. Whatever your goal may be I will create a bespoke plan for you and your and lifestyle. Training with me is more than just achieving your current goals. You are going to learn all the skills you need to become and maintain a stronger, healthier version of yourself and continue to achieve future goals. I've used strength training methods to improve the performance of athletes and also to improve the physical health of many clients that spend a lot of time in their office chairs. All of my clients have seen significant health and lifestyle improvements through my programmes.
If you would like to book a free consultation then contact me
today!
Specialist Areas
Bespoke plan
Body fat reduction
Functional specialist
Nutritional guidance
Sport specific training
Strength and conditioning
Qualifications
Level 3 Advanced Personal Training
Kettlebell & HIIT Training
Circuit Training
Outdoor Training
Nutrition for Health and Fitness