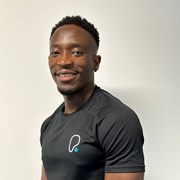 Nana Frimpong
I've had an interest in sports and fitness ever since I can remember, and that interest has developed into a love and passion. I am now dedicated to understanding the most effective and efficient ways in developing muscle mass and decreasing body fat through training and nutrition.
I take great care and patience with my clients to achieve the best results possible. I am available if you have any injuries, aches or pains you need to recover from. Through mobility training, I have seen the benefits of this with myself and others I've trained.
If you would like to start your journey with me, please don't hesitate to email, call, text or give me a shout when you see me around in the gym.  
Specialist Areas
Functional specialist
Injury prevention and rehabilitation
Strength and conditioning
Weight loss
Qualifications
Level 3 Personal Trainer
Level 2 Gym Instructor