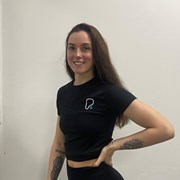 Megan Greenwood
ARE YOU READY FOR SOMETHING DIFFERENT!?
From a professional athlete to mum, I understand how hard finding time to prioritize yourself and train towards goals you have set can be, but at the same time, I know exactly how important being the best version of yourself is to maintain a healthy balance in life both mentally and physically.
My journey in the fitness industry started at just 11 years old and shaped me into the knowledgeable, committed personal trainer I am today. From Athletes, Marines and workaholics, I have worked with a wide variety of people to help them take control and finally achieve their
goals.
If you're waiting for the right time, there very rarely is one, so take control and drop me an email, insta DM or just come and find me for a chat. There's no better time than the present.
@megg_greenwood
Specialist Areas
Body confidence
Body fat reduction
Muscle tone and development
Weight loss
Qualifications
Level 2 Fitness Instructor
Level 3 Personal Trainer
Boxing Instructor