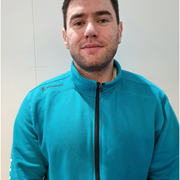 Matthew Bradnack
Hi I'm Matt, I have always loved sports since a very young age, and I focussed my studies throughout school, college, and university on Sport. At the age of 15 I started going to the gym, I had no idea what I was doing but I had the benefit of training with experienced and knowledgeable people who taught me a lot. This led me to wanting to learn more about the different training methods and styles and gain a greater understanding of the human body.
There are two principles I believe in when it comes to working out, 1) Form is the most important thing – a common misconception is that weight is needed to build muscle, whereas I believe good form will give you more benefits every time. Good form also reduces the risk of injury during workouts. 2) The mind limits the body – I believe that the human body is stronger than what we think it is and our own minds hold us back. I like to push through that barrier and get us seeing that we are only limited by our minds but when we push past this limitation, we can achieve a whole lot more. If you want more information, get in touch!
I understand that not everyone will have the same goal in life, not everyone wants to compete on the stage, as everybody has their own personal goal which is great as everybody will have their own training style and personality. This is another thing I enjoy about the gym, there is no right or wrong way of training, but there are fun and interesting ways of training, and this is key to everyone achieving their goals.
Please feel free to come and chat to me anytime you see me in the gym even when I am at the gym working out, I always enjoy helping people and answering any questions you have.
Have a great session!!
Specialist Areas
Injury prevention and rehabilitation
Muscle tone and development
Sport specific training
Strength and conditioning
Qualifications
Level 2 Gym Instructor
Level 3 Personal Training