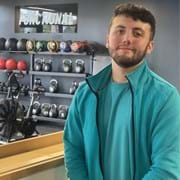 Matthew Bradley
I know the gym can be a very daunting experience for people who are starting out on their own, I've been there too but don't worry I'm here to help.
Having previously dealt with health anxiety it opened my eyes to what I can do to try and fight against my down days and the gym is my way of feeling good again and on top of life in general. It's not always easy to push yourself but it will always be worth it and I can guarantee you will feel a sense of achievement afterwards.
Together we can create amazing workouts, achieve the goals you desire and strive for success no matter how you feel when you wake up. I believe I can take your training to the next level with high-quality bespoke plans and a sense of security and support throughout your journey. This will unlock your potential to be successful with your personal goals and deepen your understanding of your worth.
I have always had a great passion for health and fitness, in school I was once thin and not comfortable with my appearance and the gym shaped me physically and also as a person too. I believe I will be the perfect trainer for you! I'm a very supportive and friendly individual who would love to be a part of your journey. Get in touch with all enquiries.
Specialist Areas
Bespoke plan
Body confidence
Body fat reduction
Muscle tone and development
Nutritional guidance
Weight loss
Qualifications
Qualifications:
CIMSPA accredited level 3 Personal Trainer
ACTIVE IQ level 3 diploma Exercise Referral
ACTIVE IQ level 3 diploma Health and Fitness
Level 2 Spin Instructor
Level 2 Gym Instructor
HND, Fitness Health and Exercise
First Aid at Work