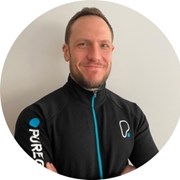 Matt Zollo
Hi, I'm Matt, and I've been lifting weights and nerding out over how to get stronger, look better and live a healthier life for over 25 years. What does this mean for you?
You'll lift bigger weights than you've ever thought possible. I've competed at a national level in powerlifting, but the focus won't simply be on your squat, bench or deadlift; you'll build strength and muscle in a balanced, intelligent way.
You'll learn how to lift weights sensibly, safely and effectively. I won't push you to your limits but instead increase your limits bit by bit, improving your technique, mobility and general movement as you go.
You'll develop a capable, resilient body. One that's less likely to get injured, less likely to suffer aches and pains and more able to handle everything you do outside the gym.
You'll look the way you want to look while living life as close to how you're living it now. No crash diets or big calorie restrictions. Just small, easy changes that will lead to a leaner, healthier, happier you.
If this sounds like your way of training, get in touch to have a chat.
@ptzollo
SPECALIST AREAS
Strength training
Mobility training
Powerlifting
Specialist Areas
Bespoke plan
Body confidence
Functional specialist
Muscle tone and development
Strength and conditioning
Qualifications
B.A.W.L.A Weight Training Instructor
L2 Fitness Instructor
L3 Personal Trainer