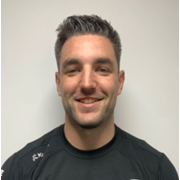 Matt Grainger
I've been strength training for 10 years and initially used this to help myself become a better rugby player. Over time I realised I simply enjoy lifting weights in order to lift heavier weight.
I coach & compete in Powerlifting with my best lifts being: 190kg Squat 162.5kg Bench Press & 230kg deadlift in competition at 93kg body weight. More recently I've been Olympic weightlifting and would love to work with people keen to start.
If you see me out and about in the gym and have any questions, please do not hesitate to come over for a chat, I'd love to get to know you and hear what has driven you to make the positive decision to get into fitness.
Check out @exiledbarbell on Instagram to see a bit of what I'm all about!
Specialist Areas
Bespoke plan
Body confidence
Muscle tone and development
Sport specific training
Strength and conditioning
Weight loss
Qualifications
Sport & Exercise Science BSc
Strength & Conditioning MSc
Level 3 Personal Trainer