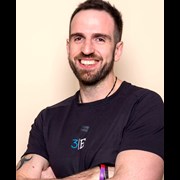 Mark Saunders
Across my 7000+ hours of Personal Training delivered here @ Pure Gym Union Gate, I have noticed that my true fulfillment comes from helping people gain a sense of confidence and comfort in their surroundings.
Feeling lost, alienated & without a purpose is something I never want anyone in the gym to experience.
This is why the upmost priority of my business is to provide beginners to the gym with mentoring, empathy and a clear defined structure/path to learn a tangible & successful balance between the life they want to live, alongside a sustainable approach to training/movement.
I love how success in the gym will invariably transfer into other areas of life, creating a happier, more successful, well-rounded individual.
My passion and knowledge about all areas of the exercise spectrum will convince even sceptics of the massive benefits of Personal Training.
So my question is, are you ready to have someone like me in your corner? If so, I would love to sit down with you for a free 1-1 Consultation, to see if we would work well together, as a team.
To get in contact, please drop me an email!
Specialist Areas
Body confidence
Body fat reduction
Injury prevention and rehabilitation
Muscle tone and development
Nutritional guidance
Postural correction
Strength and conditioning
Weight loss
Qualifications
REPS Level 2 Fitness Instructor 
REPS Level 3 Personal Trainer 
Kettlebell Instructor 
Circuits Instructor