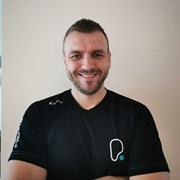 Marcin Antonczyk
The reason I became a Personal Trainer was my passion for sport, fitness and the desire to help people achieve their goals, overcome difficulties and barriers as well as improve health, wellbeing and sport performance.
I am a big believer of old school training combined with strength and conditioning and new modern systems based on high intensity workouts.
The best reward for me is seeing my clients make even small positive changes that have a big influence on their life and the way they feel about themselves.
I understand that busy lifestyles and hectic schedules might put you off from training, being active and looking after your health. But I will guide and teach you how to make good choices and fit them into your routine.
I will give you all the necessary support to push you the extra mile.
Specialist Areas
Body fat reduction
Muscle tone and development
Nutritional guidance
Strength and conditioning
Weight loss
Qualifications
MSc in Physical Education
Level 3 Diploma in Personal Training with Business Planning
Body Type Nutrition Coach – BTN Academy
OLF-EKI – Extreme Kettlebell Instructor Level 1
First Aid