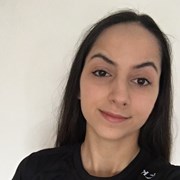 Mahshad Rabiee
Any Personal Trainer can make you throw some weights around and break a sweat. That's easy. But training you to feel fit and healthy, live pain-free AND achieve your dream body, all without killing you in the gym? That's where I come in.
Because enjoyment is key in all this. Follow me on Instagram (Gymwithmash) and you'll see that I'm just like you. I don't follow strict diets. I don't train every single day or do ridiculous amounts of cardio. I don't cut out the things I love in life for the sake of a great body. And, perhaps most importantly of all, I have fun while I train. The truth is, you can have a body to be proud of and enjoy life at the same time.
You'll get personalised programmes and workouts that fit into your life, no matter how busy you are. You'll get all the knowledge you need on nutrition, so you make the right choices and have a healthy relationship with food – even the naughty stuff! And, if you have an injury, I'll help you not only ease back into pain-free training but also ensure you don't get injured again.
You'll have me every step of the way to achieving your new, amazing physique.
Whether you want to look amazing, feel amazingly healthy or be a total heavy-lifting gym bad ass, let me take the hard work out of training and put the fun into it.
If you see me in the gym, come over for a chat – even if I'm working out! I love to talk about training. Or contact me on the phone, DM me on Insta or drop me an email. I'm here to help you.
Specialist Areas
Body confidence
Body fat reduction
Muscle tone and development
Nutritional guidance
Strength and conditioning
Weight loss
Qualifications
Level 2 Fitness Instructor
Level 3 Personal Trainer