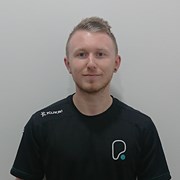 Luke Devlin
Fitness has always played a huge role in my life for both mental and physical purposes. Growing up I was very active and competed in motocross racing, throughout my time as a motocross rider I managed to win multiple state championships. For me to achieve this it took a lot of hard work and muscular endurance training, knowing that I was competing with people who had a lot more time to train I made sure that every second I spent training I gave it my 100%.
Once I stopped motocross I began to really struggle with anxiety and my fitness levels decreased this really took a toll on my self-esteem and how I perceived myself as a person. I decided to join back at the gym hoping to regain confidence, what I have gotten out of fitness has been an amazing journey. I have managed to improve my mental state and find a lot more confidence within. I decided to become a Personal Trainer to help people who are struggling with their health and fitness both physically and mentally whether it's for appearance or healthy well being I can help you achieve your goals.
Feel free to contact me to book in for a free consultation.
Specialist Areas
Bespoke plan
Body confidence
Body fat reduction
Muscle tone and development
Nutritional guidance
Weight loss
Qualifications
Reps level 3 Personal Trainer
Reps level 2 Gym Instructor