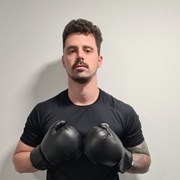 Contact
Free first session offered
Email me
Luca Cravello
Hello everyone! 
I'm an Italian Personal trainer with 10 years of experience in the fitness industry and 7 years of experience in Kick boxing. My priority as a Personal trainer is to create the best plan for you to make your sessions more enjoyable and productive.
If you ready to start your fitness journey:
1- I offer a fitness program that is customized to your specific goals. With regular body assessments and tailored workout plans, we can track your progress and adjust as needed. As your goals change, we can update your program to ensure you continue to see results.
2- Join my dynamic Boxing, Kickboxing, and Muay Thai sessions where I'll take you through the fundamentals of each discipline. I also offer sparring sessions where you can practice your moves in a controlled environment.
If you are looking for a way to escape your normal routine, change your habits and get started inside the fantastic world of fitness, find my details on the side and drop me a message!
Specialist Areas
Body confidence
Body fat reduction
Muscle tone and development
Nutritional guidance
Persistent motivation
Strength and conditioning
Weight loss
Boxing
Qualifications
Level 3 Personal trainer
Martial art instructor: Boxing, Kick boxing, Muay thai.