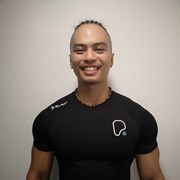 Louie James Manalo
I'm the kind of trainer that believes in hard work and dedication. I'm fully committed to delivering a creative and diverse approach, making achieving your goals fun, yet challenging.
I use a knowledge base of a BSc in Sports Science and over 13+ years' of experience in various martial arts, to design bespoke training with the fitness goals you wish to achieve. My expertise in human biomechanics and kinesiology, coupled with my sports massage therapy, allows me a greater degree of understanding on training clients with specific injuries. 
Drawing from my own training experience in years of pure strength training and combat sports, after a couple of sessions my clients can expect to become the strongest and fittest version of themselves yet.
Whatever level you're at, I guarantee to continually push you whilst being totally supportive and motivational, in an enjoyable environment you're comfortable in. Sessions will inevitably become more and more challenging, but with my guidance and direction you'll be looking forward to each session. I'll help you discover what you're truly capable of, waving goodbye to your limits as you become a better you with every session!
Specialist Areas
Bespoke plan
Body fat reduction
Injury prevention and rehabilitation
Muscle tone and development
Nutritional guidance
Postural correction
Sport specific training
Strength and conditioning
Boxing
Qualifications
Sports Science Bsc Hons
BSc in Sport & Exercise Science
Level 3 Personal Trainer
Level 3 Sports Massage Therapy
NASM Optimum Performance Specialist
NASM Corrective Exercise Specialist
NASM Group Training Specialist
DNAfit Specialist Trainer
ABA Boxing Coach