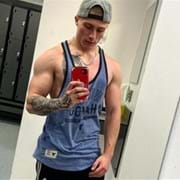 Contact
Free first session offered
Email me
Louie Whiteley-waite
I qualified as a personal trainer back in 2017 and have been working in the industry ever since. Working in both gym and poolside environments. From 2019-2021, I was working overseas in New Zealand, learning and working on my craft. I have worked in for previous gyms over the years, working with a range of clientele.
From doing physiotherapy and helping reset the bodies natural biomechanics, to simply trying to achieve the best physique by building muscle and controlling body fat levels.
I will use a range of different tactics to achieve the outcome necessary, I love to use free weights as I fine them the most Enjoyable.
I have been bodybuilding since 2020 and will work day and night and training. Anything you learn from me, I would've learnt through experimenting on myself, because I see myself as my best client.
Drop me a message to book in a trial session and come see for yourself. Thanks for reading.
Specialist Areas
Body fat reduction
Muscle tone and development
Persistent motivation
Weight loss
Qualifications
-Level 2 Fitness Instructor
-Level 3 Personal Trainer
-Swim teacher
-Competition swim coach