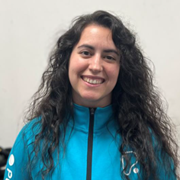 Lorena Cueto
Hello everyone I am Lorena. A Spanish PT
with 12 years of experience in the fitness/
well being industry.
I am very passionate about helping
others find happiness in life and feel
good about themselves. I believe that
when you feel good you excel in life! For
me a healthy lifestyle is much more than
just lifting weights. Yes, it takes
motivation, determination and
consistency to succeed. Although it may
not be always be easy and you may face
a few hurdles, you can be sure that you
will eventually look at your body in a
whole new light. You will not only look
good but also feel better, happier and
more confident.
All
you have to do is take that first step
on the journey to your new life.
Contact me to book in for a
free holistic review/ taster
session!
Specialist Areas
Body fat reduction
Functional specialist
Nutritional guidance
Qualifications
Level 2 Fitness instructor
Level 3 Personal trainer
Level 4 nutrition