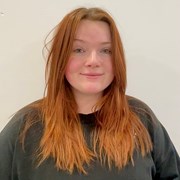 Lisa ten Bulte
Hi! My name is Lisa
In May 2021 I decided to start a PT course, because when I started feeling confident and strong in the gym it became value to life that I wanted every person to experience.
When I started my fitness and weight loss journey in 2019, I could not believe how much stronger I got by lifting weights and therefore how much more confident I got in the gym and in my own body. I feel strong and empowered when I am deadlifting or bench pressing in the free weights area, and I want to help you achieve the same!
Whether you're new to the gym and feel intimidated by the free weights and the machines, or whether you want to lose fat or build muscle, make sure to contact me so I can build you an exercise plan tailored to your goals, a plan that does not take away from your life outside the gym.
Get in touch and I will be there for you every step of the way, let's work together towards your goals!
Specialist Areas
Body confidence
Nutritional guidance
Weight loss
Qualifications
Level 2 Gym Instructor
Level 3 Personal Trainer