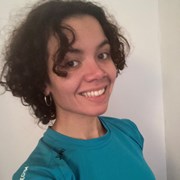 Leah Beresford
I'm a trainee health psychologist and a qualified personal trainer.
I used to struggle with weight fluctuations, and I also struggled with bad anxiety following an accident that I had some years ago.
It wasn't until I was 20 and I discovered training in a gym and it full on changed my life.
I have grown in so many ways since I started consistently training well, it helped me over the worst parts of my anxiety and getting into fitness has helped maintain my weight at a healthy level.
I have seen the most improvement with my mental health, but my confidence, motivation, focus and self-esteem are all at an all-time high.
Through the studies of my master's degree in health psychology, I have and still am learning the vital importance exercise and training has to our mental wellbeing and how much of a positive impact it can make. I am also learning how to build sustainable health behaviors to boost mental health and longevity.
I would love to chat to you and help you, whether it's with your training, nutrition, mental wellbeing, or your motivation or maybe all of them.
You are welcome to come and chat to me anytime or take my card and get in touch.
Specialist Areas
Bespoke plan
Body confidence
Muscle tone and development
Nutritional guidance
Weight loss
Qualifications
Psychology BSc
Personal training level 3
Fitness instructing level 2