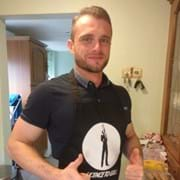 Krzysztof Wachowski
Five years ago, I was overweight, depressed, lethargic, unmotivated, and suffering from very low self-esteem. Today, I am the fittest I have ever been, and I'm approaching 40! Getting into fitness has changed my life on so many levels. Now, I enjoy using my experiences and qualifications to help people just like you. I know exactly how you feel, I have walked in your shoes and now I can help you to turn your life around, just like I did.
When I first began my adventure with fitness, I was anything but the picture of health. I realised it was because I was eating highly processed foods, drinking sugary drinks and consuming alcohol on a regular basis. I decided to do something about it, so I immersed myself in a new lifestyle and haven't looked back.
I'm very passionate about helping others to find happiness in life and feel good about themselves. I believe that when you FEEL GOOD, you can excel in life.
For me, a healthy lifestyle is much more than just lifting weights. It's about stretching, warming up, eating healthily, getting the necessary rest and enough sleep. I love helping others to recognise what their bodies are capable of with just enough hard work. My goal is to help you achieve a happy and well-balanced lifestyle that will minimize the risk of future health-related issues.
If you are interested in getting started, you can sign up for one of my packages today. Yes, it takes motivation, determination, and consistency to succeed and although it may not always be easy and you may face a few hurdles, you can be sure that you will eventually look at your body in a whole new light. You'll not only look good but also feel better, happier, and more confident. Just give me a call!
Specialist Areas
Bespoke plan
Body confidence
Body fat reduction
Muscle tone and development
Nutritional guidance
Persistent motivation
Postural correction
Weight loss
Qualifications
Level 2 Fitness Instructor
Level 3 Personal Trainer