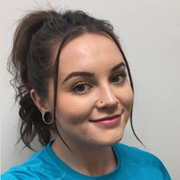 Jessica Grimwood
I've been around and trained with a lot of body builders and powerlifters for the last few years and have found a real love for the sport. 
I've gone through "bulking and cutting" phases so I understand what it's like to gain and lose weight drastically. 
My Services : 
If you need someone to help tweak your form, push you further than you thought, or someone to just hold you accountable to keep going, then give me a shout and we can get started with a plan. 
I believe having a good support system is one of the most important things for success – so let's get started! 
Qualifications
Level 2 Fitness Instructor
Level 3 Personal Trainer