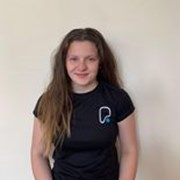 Jeni Wooley
In a society where a sedentary lifestyle and a highly processed diet is normalised and encouraged  it has never been more critical to step out of your comfort zone and make the change for your own health, both physically and mentally. 
It is my main objective to teach you how to take care of your body through the correct training and nutrition along with the addition of beneficial daily habits. We will focus on implementing good sleep habits, time and stress management and new skills into everyday routine to allow both the body and brain to function the best it can and to maximise performance not just in sessions but in your daily life. Everyday you implement these little daily tasks and move your body the way it was designed to, you will feel and function better. 
I believe building a community where each individual encourages and looks out for one another will build a positive and uplifting space, inspiring each other to focus on personal growth and wellness.
Whatever your previous experience, whatever your goals, whatever your current health, you can make the change! So whether you're completely ready to or are contemplating making this step do not hesitate to get in contact with me to begin your life changing journey.
Specialist Areas
Body confidence
Body fat reduction
Functional specialist
Muscle tone and development
Nutritional guidance
Qualifications
Level 2 Gym Instructor
Level 3 Personal Trainer