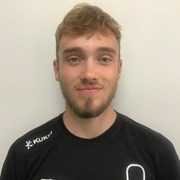 James Watts
A brief hello from me and then onto the important bit, you!
I'm a Personal Trainer with a new fresh knowledge always looking for ways to improve myself and my sessions. But don't picture me as a gym goer who does nothing other than eat greens and go for runs as that's not true. I'm a normal human who enjoys helping others to feel comfortable and content within themselves. Life is for living and if you are not happy with the life that you're living I might be able to help.
Okay, so from my side of the working relationship you can expect a fully supportive, 100% focused Personal Trainer whose goal is getting you to achieving yours. Every programme is unique, every training session is different to the last and every goal targeted is smashed.
With having a very sporting background myself I know how to train for each sport you undertake, I also specialise in body positivity, weight loss and toning. If you wish you could still play with kids, kick a football around with your mates or get the body back you had in your former years, I might be able to help you there. If you are committed to the training and dietary advice I give you I can guarantee results.
Do not hesitate to contact me even if it is just to answer a question. I am available to offer tips, tricks of the trade, and general help/info. So come and find me or drop me a call, text or email and I promise to get back to you as soon as possible.
If you are a social media mogul then drop me a follow on Instagram: @jameswattspt and I will also respond to any DM requests. 
See you around the gym soon!
Specialist Areas
Bespoke plan
Body confidence
Body fat reduction
Muscle tone and development
Persistent motivation
Sport specific training
Weight loss
Qualifications
Level 3 Personal Trainer
First Aid at Work
Qualified Swimming Coach