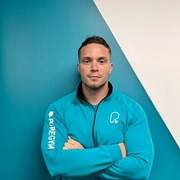 James Johnson
I'm a huge believer in health & fitness, not only physical but mental too.
I have played sports all my life and have had a keen interest in the gym industry since 17.
I've competed in CrossFit competitions & played in numerous football cup finals, so I understand the focus and commitment that is required to achieve success.
I'm here to help you achieve your goals. I'm here to make you a better you. I'm here to help you become the best version of yourself.
The past 6 years I have trained with, been coached by and competed against some fantastic trainers. This has allowed me to improve, advance and mature my knowledge within the health and fitness industry.
If you see me on the gym floor, don't be afraid to come and say hello! I also do online coaching, so if that is something you'd be interested in please drop me an email.
Thanks for reading, good luck with your journey!
Specialist Areas
Body fat reduction
Functional specialist
Muscle tone and development
Nutritional guidance
Persistent motivation
Sport specific training
Weight loss
Qualifications
Level 2 Gym Instructor
Level 3 Personal Trainer
Level 2 Cricket coach