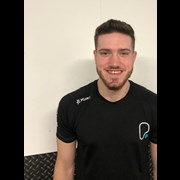 Jack Shields
I have been through my own fitness journey and this experience means I know what it takes to help you with yours. I have gone from being overweight to losing the weight & then began to build muscle resulting in feeling so much better about myself physically and mentally! This what I aim to do with every one of my clients. My knowledge and experience can help you with your fitness goals- whether it be losing weight, toning up or starting to build muscle. So, if you need some support or advice then please, let me help YOU.
How can I help YOU?
• I will motivate YOU
• YOU are my priority and will have my full attention
• I will help YOU achieve YOUR goals
• Offer YOU my full support during and outside our sessions
• Make YOU feel at ease in and around the gym floor
If you are ready to be pushed to your limits and make a difference for yourself then just feel free to contact me. I am looking forward to working with you.
Specialist Areas
Body confidence
Body fat reduction
Muscle tone and development
Persistent motivation
Strength and conditioning
Weight loss
Qualifications
Certified Level 2 – Gym Instructor
Certified Level 3 – Personal Trainer & Nutritional Guidance