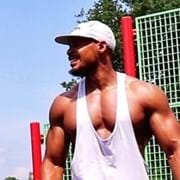 Hedson Trindade
The word "Sports" has been present for almost my entire life; I started as a professional Basketball and Athletics at early age, competed nationally and internationally for over a decade, recognised as the best in some areas. I have always been driven by adrenaline of competing and pushing myself to be the best, been coached by many and great different coaches.
All of that as contribute immensely to my knowledge and my passion to help others.
I believe that in life nothing is meant to come easy and to achieve any lasting results (goals) we must come out of our comfort zone.
This same motto will be rooted to our sessions, but do not fear the process, trust the process because if you follow my guidance the final result will pay off.
My Goal today is to help you the same way I have been helped in the past, by aiding you achieve your mental and physical goals, build positive/healthy routines and on the process provide you with necessary tools to help maintain those same goals. During this process you will experience a behavioural change such increase of self-esteem, confidence, independence between many others that will promote positive changes in different aspects of your life. We must trigger a mental change before any physical change.
Now the question you should be asking yourself is, "Am I ready to commit?". If you're reading this, it means the first step is done - now let me help you with next one.
Specialist Areas
Bespoke plan
Body confidence
Body fat reduction
Muscle tone and development
Nutritional guidance
Persistent motivation
Weight loss
Qualifications
Level 2 Fitness Instructor
Level 3 Personal Trainer