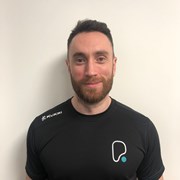 Graham Crackett
Passionate and dedicated about being a Personal Trainer. I work with people who are looking to improve the way they look and feel by providing training, nutrition and lifestyle support to form plans that don't just produce quick results, but results that help create sustainable happiness.
Want to hear what others have to say first?
"Graham listens and tailors each session to help me achieve my ever-changing fitness goals. His continual patience and encouragement ensure I enjoy the process! Wish I could book him more often!" Kathy
"I chose Graham as a Personal Trainer as I had a very tight deadline to lose a significant amount of body fat percentage in order to pursue a career in the Police Service. From the initial consultation, Graham was honest but positive and confident that with considerable effort I could reach my goal of losing 4% Body Fat in 4 weeks. Graham put together a personalised training program and a nutritional guide that he believed worked best, and by sticking to the regime whilst attending 4 personal training sessions I hit my target comfortably which has in turn contributed to me losing 4.5 stone in as many months! I am now starting my chosen career path and if it weren't for Graham's guidance and support, it would have been extremely difficult to "Crack It". Therefore, I would happily recommend him to anyone with a goal to reach, big or small." Richard
Want to know more? Drop me a message or grab me in the gym so I can answer any questions or concerns you have and we can have a chat about how you can get to where you want to be.
Specialist Areas
Body fat reduction
Nutritional guidance
Special populations
Sport specific training
Strength and conditioning
Qualifications
Level 3 Personal Trainer

Level 3 Nutrition

Metafit (High Intensity Interval Training)

Aqua Aerobics

Circuit Training