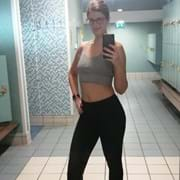 Eniko Krasznai
Hi. I am Eniko and I am here to make a positive impact on your life.

My mission is to help you transform your health and your life the way that when you achieve your goals you can sustain them.

If you're wondering how I know I can help you with that… I've been there where you are and I had to go through a complete lifestyle change by myself. I have over come bad habits such as smoking, binge eating, limiting beliefs, negative self-talk.
I keep levelling up my life day by day and I am here to help you to do the same.
Our mental health just as important as our physical health and I am here to help you with both.
When you work with me I guarantee you the changes you imply for your life will have a big impact on all areas of your life. I help you to lose weight, get toned, build body confidence, improve your mood, tackle limiting beliefs and create new habits.

You don't need to prove anything to anyone. Do it for you.
Specialist Areas
Bespoke plan
Body confidence
Body fat reduction
Muscle tone and development
Nutritional guidance
Persistent motivation
Weight loss
Qualifications
•Level 3 Personal Trainer
•Level 2 Gym Instructor
•Nutrition Advisor