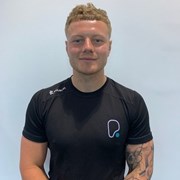 Elliot Phillips
I'm a Personal Trainer that strives to teach my clients that healthy is happy. I believe that fitness can become a part of everyone's lifestyle, I aim to work the gym around your everyday activities so it doesn't take over your life.
As a keen sportsman myself, I have been in health and fitness for over six years playing rugby from a very young age and training in the gym alongside it. I have always favoured sport through education, I studied Sports Biomedicine and Nutrition at Cardiff Met University. I apply what I learnt to all my nutrition advice and training be it in 1-1, group sessions or programmes.
I want training to become a healthy habit for you. With my easy to follow and maintainable training and nutrition programmes that are tailored to you and your lifestyle, the habits of healthy living will become easy. If you see me in the gym come and say hi. If you are interested in my services just ask or grab yourself a card and contact me.
Specialist Areas
Body fat reduction
Muscle tone and development
Nutritional guidance
Sport specific training
Strength and conditioning
Weight loss
Qualifications
Level 3 Qualified Personal Trainer
Level 2 Gym Instructor
Nutritional Advisor