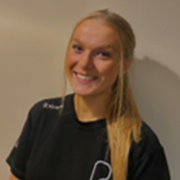 Ellie Thomas
I have always had a passion for fitness, I've played competitive netball for the past 6 years, I am a keen  snowboarder, and I really enjoy strength training in the gym. I love being active and I am dedicated to keeping fit and lifting heavy!​
My biggest drive to become a Personal Trainer was because I want to help you build your confidence, achieve your goals, make small but important changes in your life and help you fall in love with the process, as well as yourself. ​
It's taken me years to realise we are not all the same, we all have different body's, different mindsets and different goals. What you want to achieve is for you, it's your own fitness journey, nobody else's.​
I am here to help you make the changes and be your no.1 fan on the days you aren't your own.​
​
Please do not hesitate to come and have a chat when I'm' in working or training myself, or alternatively contact me via email, or phone to book in your free consultation.  ​
DO IT FOR YOU!​
Specialist Areas
Body confidence
Body fat reduction
Muscle tone and development
Nutritional guidance
Weight loss