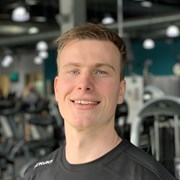 Contact
Free first session offered
Email me
Dominykas Dabulskis
Coming into the industry with a Psychology background, with considerable experience in Mental Health, I initially worked predominantly with clients with mental health issues and chronic pain. I am now keen on working with individuals who are suffering or have suffered with some sorts of mental health issues and are keen on incorporating fitness into their lifestyle.
One in four people experience mental ill-health each year and when you are in a bad place, the gym is the last thing a person is thinking to go to. However, exercise is a powerful fighter against mental health issues for several reasons. Most importantly, it promotes all kinds of changes in the brain, including neural growth, reduced inflammation, and new activity patterns that promote feelings of calm and wellbeing. It also releases endorphins, powerful chemicals in your brain that energise your spirits and make you feel good. Finally, exercise can also serve as a distraction, allowing you to find some quiet time to break out of the cycle. 
I am also keen on helping individuals lose weight. Changing your body requires changing how you live your life. You need to look at it as a lifestyle change if you want to have lasting change. My promise to you is that I will find a workout you love, give yourself time to change your eating habits, and will provide you with all the support you need to help achieve your fitness goals and the motivation that you'll need on your journey.
 Doms Personal Training
Specialist Areas
Body fat reduction
Muscle tone and development
Weight loss
Qualifications
Level 3 Personal Trainer
BSc Psychology
MSc Health Psychology