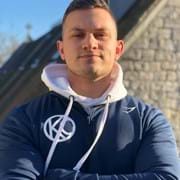 Dan King
Hey there, my name is Dan, how can I help you?
With 8 Years of training experience under my belt I have developed a wealth of knowledge to help you conquer your health and fitness goals.
 I have created over 100 different training programmes to suit my clients needs, here are a couple of the results they have achieved with me: 
Ellie- After being coached by Dan for a year, I managed to lose a total of 15kg (2 stone 4lbs.) Losing this amount of weight gave me a whole new start to life where I now feel confident enough to wear bikinis on the beach as well as try out more exciting outfits for nights out with my friends. 
Ryan- Since beginning my training with Dan I have lost a total of 13kg (2 stone). Not only have I lost weight but also I feel physically and mentally tougher. Dan's style of coaching pushes me to achieve the goals we set as well as keeping the sessions positive to build a good foundation to start my day.
My key specialist areas are:
Weight and fat loss 
Strength and Conditioning training 
Improving general fitness 
Muscle hypertrophy (gain) 
Sports specific training 
One of my favourite areas to train individuals in would be strength and conditioning, as I have worked with a variety of individuals from beginners who are unsure about their squat form to amatuer athletes looking to improve on their overall numbers (personal bests, 1 repetition max lifts.) 
I like to hone in on the conditioning side especially to make sure my clients can lift heavy with as little fatigue on the body as possible, this includes programming daily stretch and mobility routines to reduce whole body stiffness with day to day tasks
If you are interested in signing up with me contact me via one of the methods shown on the right, if you are on desktop, above if you are on your mobile.
I look forward to hearing from you, have a great day!
Contact details 
Name: Dan King 
Whatsapp: +44 7917 55154 
Email: dan@kingscoaching.co.uk 
Instagram: coach.dan.king 
Tik Tok: dan_king__  
Specialist Areas
Body confidence
Muscle tone and development
Sport specific training
Weight loss
Qualifications
Qualifications: 
BSc in Sports & Exercise science 
Level 3 Personal Trainer 
Level 2 Group Fitness instructor