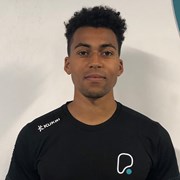 Contact
Free first session offered
Email me
Christian Lawal
Hi, I'm Christian. I became a personal trainer at the start of 2020.

I've always been an active individual, but after spending 2 years sat at a desk from 9-5, I became aware of my body's discomfort & the decline in my overall health.
So, I made a change.
I've since become fascinated by health. I'm committed to passing on understanding to my clients, helping them to regain control of their well-being.
Working with me is more than just our time spent in the gym; I provide a holistic service, helping to optimise training, sleep, mindset, stress, & nutrition.
Through this integrated approach, I help driven individuals to lose fat, improve health and feel good.
Specialist Areas
Muscle tone and development
Nutritional guidance
Weight loss